La Reina Linda 2016 – Elizabeth Trevino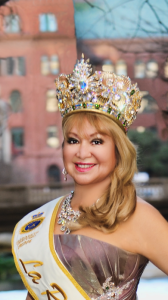 Elizabeth Trevino attended the Universidad Autonoma de Nuevo Leon for her undergraduate and law degree in business. She worked for the State Supreme Court in Monterrey, Mexico.
In 1985, Elizabeth and family moved to the United States. She raised three very lovely and successful children, Israel, Ana, and Daniel. In her first years in the states, she volunteered for the Texas Department of Health in Houston, Texas, later to be offered the position of administrator role for the whole department for nine years. During this time, Ms. Trevino decided to open her own businesses, one in the beauty supply industry and the other in the clothing industry. Both businesses were very successful and helped Elizabeth grow as a business owner.
In 1995, Ms. Trevino sold both businesses, moved to San Antonio. She and her husband, then opened a Real Estate and Construction Company. With the success of the company, Ms. Trevino decided to reinvest her income into the restaurant business with her sons, thus opening several Mexican restaurants. Ms. Trevino took her family recipes and began to incorporate them into her restaurants. The result was a success. Her restaurant concepts have taken off and have become very popular. As her restaurant businesses continued to grow, Ms. Trevino and sons decided to open several locations.
As Ms. Trevino's success continues, and with the help of her children, she has decided that it is time for her to increase her love of helping others. She has decided that she will now begin devoting a portion of her life to non-profit organizations. She has promised herself that wherever she can help, she will do it.